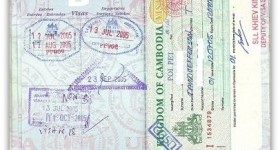 90-day Reporting in Chiang Mai. Once you have a 12 month marriage visa or a 12 month Thai retirement visa you need to ensure that you report to Thai immigration in Chiang Mai every 3 months to confirm your home address. There is a penalty of 2,000 Baht for not reporting however they might also not extend your visa the following year if you have failed to report every 90 days.
The reporting is normally done in person but many tend to send in their wife to do the reporting as they need to complete a form and sign the book to show that they have reported. Note that this can be done 15 days before the notice period expires or 7 days after. You can also use registered mail to do your reporting and the following documents are needed:
Photocopy of passport pages with following pages
– front page
– current visa
– last entry stamp of immigration
– last extension of visa
Photocopy of departure card TM.6
Previous notifications of staying over 90 days (if any)
Completely filled in and signed notification form TM.47
Envelope with 10 Baht stamp affixed and with your return address for the officer in charge.
The contact details for Thai Immigration in Chiang Mai is as follows:
Chiang Mai Immigration Airport
60 Amphoe Mueang Chiang Mai
50200
0-5327-7190
[email protected]
Chiang Mai Immigration
71 Moo 3 Amphoe Mueang Chiang Mai
50200
0-5320-1755-6
F 0-5327-7510
[email protected]
If you need any help with visa issues in Chiang Mai then call us in Chiang Mai or better yet walk into our law office in Chiang Mai for assistance. You can also speak to us online for more information.