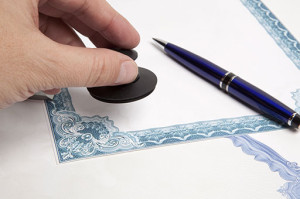 Foreigners may find notarial services in Thailand not as widely available as in his home country. This is because the number of lawyers who are authorized to provide notarial services are limited and in order to gain such authorization, they have to undergo a professional training course and then pass it before they can notarize a document.
It is the Lawyers Council of Thailand which has the regulatory power when it comes to the practice of notarial services in the Kingdom.
If an attorney is already certified to provide notarial services, he can now do the following:
Verify the signatures' authenticity on documents.
Act as witness to parties affixing their signatures on a document or documents.
Certify the identities of parties involved in an agreement.
Certify and attest certain documents.
Do administer oath and or affirmation.
Why notarization is needed
Documents and signatures of individuals are notarize to attest their authenticity. This is needed to minimize the possibility of fraudulent individuals from passing unqualified documents.
The notarial officer, the lawyer who notarizes the documents, also acts as a witness in favor of neither party. He also lays witness that the documents submitted are authentic and that the persons signing the documents are the same persons who should affix their signature thereunto and are qualified to do so.
Some documents do need to be notarized as they cannot become enforceable nor binding if they are not notarized.
The Hague Convention
Foreigners may find it odd that their notarized documents in Thailand still have to be notarized further at the Ministry of Foreign Affairs or at the Embassy of the country where it is to be submitted. The reason behind this reality is the fact that Thailand is not a signatory of the Hague Convention on Legalization of Foreign Documents.