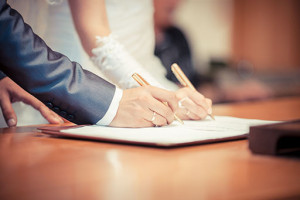 Foreigners may choose to be wed in Thailand, may it be ceremonial or civil in nature, the country is open for both options. Nonetheless, if they wish their marriage to be recognized in other countries, they should register their marriage at one of the Kingdom's many Amphurs or registration offices and this entails several requirements that both parties must submit before the office.
For non-Thai citizens, the process may be a bit complex for them that consulting with a lawyer would be a practical option because not only the lawyer can assist them with the registration process but also on accomplishing the requirements as well as in formulating a prenuptial agreement if they want to.
Required Documents
If one party is a Thai and the other is a foreign national, they have different sets of documents which they have to accomplish.
Foreigner
Copy of passport plus the arrival card.
Certification to be obtain at his foreign embassy attesting the fact that he is single and therefore free to get married (Certificate of Affirmation of Freedom to Marry).
Translated copies of the affidavits with certification by an approved Foreign Ministry Translator.
Thai National
Identification Card
House Registration Certificate
If previously married but has since divorced or that the spouse has passed away, the divorce decree or the death certificate must also be submitted, whichever applies.
Presence of qualified witnesses.
The Marrying Couple
Parties cannot simply get married in Thailand if they want to. They must be qualified to get married per Thai laws and the requirements that they should be able to satisfy are the following:
AgeShould at least be 17 years old and above or at marriageable age as required in their home country.
Mental CapacityBoth parties must have the mental capacity to get married, that is, neither should be incompetent or insane.
RelationshipThe marrying couple should not be within the prohibited degree of relationship or i.e. siblings in full or half blood, ascendants or descendants. If one or both are adopted, they should not have the same adoptive parents.
Civil StatusNeither should have a spouse at that time. This would be supported by the Certificate of Affirmation of Freedom to Marry.
Registration Process
Both parties should appear before the registration office to formally and personally give their consent to each other to marry. The registrar has to witness this declaration plus two other qualified witnesses. They must then submit the documents required.
And since Thailand utilizes its official language, it would also help if during registration process of the said marriage, an interpreter or translator would be present to assist them.
Lastly, the only time the newly wed can declare that their marriage is fully registered is when they are issued with marriage certificate.